11
May 2023
16:00 - 17:00
in Digital | Time Zone CEST
SpotON "Energy down - Efficiency up!"
SpotOn's


Start of the event:
04:00 pm (CEST, Berlin, Germany)
10:00 am (EDT, North Carolina, US)
09:00 pm (ICT, Bangkok, Thailand)


SPOT ON!!! & ACTION!
You are cordially invited to take a look at our free event series SpotOn. The focus is on the meaning of energy efficiency within our plastics world.
Rethinking of traditional ways means discovering new potentials. The question of an environmentally friendly, sustainable product development and a prudent, future-oriented use of resources is omnipresent in the plastics industry. A conscious use of resources determines the industry - not only stimulates reflection but also requires active action.

We would like to use the opportunity within this SpotOn to inform you about possibilities and perspectives of an energy-efficient production of plastic components.

We are eagerly looking forward to our guest speaker __ Mr. Juri Müller, Ingenieurbüro Müller, who presents convincing facts on the subject of energy efficiency through correct temperature control in the plastics industry. Furthermore, we welcome __ Mr. Jovce Blazevski, Sales Account Manager Austria Sales Group Plastic & QMC BU Connectors & Fluid Connectors at Stäubli Tec-Systems GmbH, an expert for modern, highly sufficient cooling methods to our SpotON. Our __ Marc Kurz, Managing Director of SimpaTec, will explain options, possibilities and necessities of using state-of-the-art CAE simulation tools in order to be able to implement sustainable product development that protects resources and the environment.

The event will be moderated by __ Florian Aichberger, Sales Engineer, SimpaTec Austria. You are welcome to ask questions in the chat during the entire event. We are happy to answer the most important chat questions in the discussion at the end of the SpotOn.

Bring yourself up to date on the topic of energy efficiency within plastics industry. Register now for our – SpotON!

By the way - also for German-speaking interested people there is the possibility to look back to K projects, register now for
>>> the free SpotOn "Energie runter - Effizienz rauf" on Thursday, May 4, 2023, 11 a.m. in German!


Digital platform:
_ MS Teams Live Event
_ For a smoothly technical process, please register with your official professional email address. Thank you. In case of registration via Gmail, Hotmail, etc. accounts we reserve the right to check your participation.

Participation fee
free of charge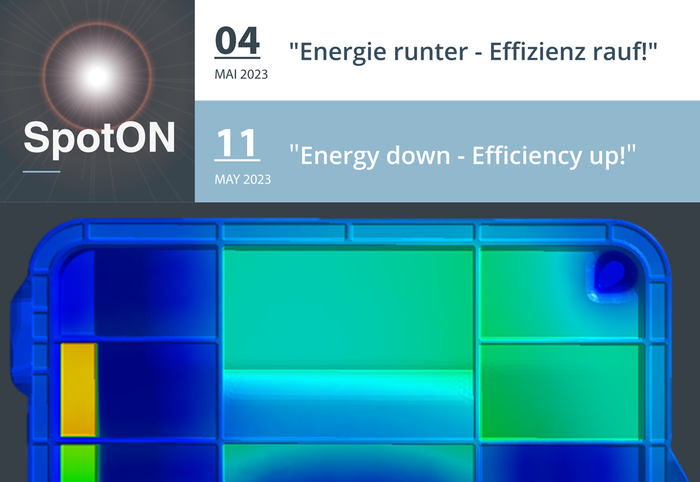 Registration
Contact
Do you prefer the direct contact? We are happy to answer your questions on the phone.
+49 241 56 52 76-0
If you have any questions regarding your registration, please contact our event department.
events@simpatec.com