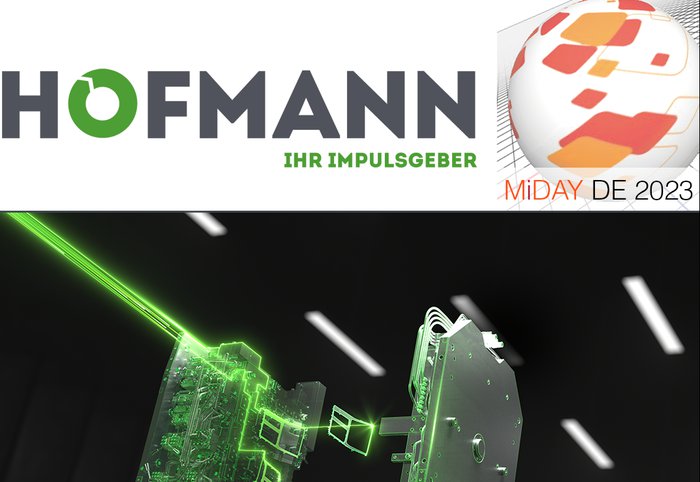 19. Jul 2023
Hofmann - der Impulsgeber at MiDay 2023!

In the exhibitor area at our MiDay Germany on September 19, 2023, renowned companies will present their products and current trends at high-class level. Ask your questions personally to company experts:
Meet and see – Siegfried Hofmann GmbH
The German family-owned company offers its international customers innovative solutions in the areas of mold making, mechanical engineering, contract manufacturing, digitization and automation for the plastics processing industry with a focus on automotive, medical and packaging. The in-house product BEAD.MACHINE additionally sets new standards in particle foam processing.
More than 300 employees at the sustainably built company headquarters in Lichtenfels, Upper Franconia, develop and produce everything from multi-cavity molds to fully automated machinery, always in line with the demand for the highest product and service quality.
Founded in 1958, Siegfried Hofmann GmbH (formerly Werkzeugbau Siegfried Hofmann GmbH) has been operating under the brand name "Hofmann - Ihr Impulsgeber" since 2017. Convince yourself on site!

We offer you a straight-forward, open, no-twirls event characterized by direct communication, highly interesting technical issues in close proximity to customers, to the market - all compact in one day. Broaden your horizon and meet experts and user professionals from your industry. Be up-to-date and learn more about potentials and prospects of future-oriented manufacturing processes regarding injection molding technology.
The conference language is German.
Register now!

We are at the pulse of time for you! Always.
We look forward to this special encounter with you.
Break your limits. Challenge us.



Back to overview