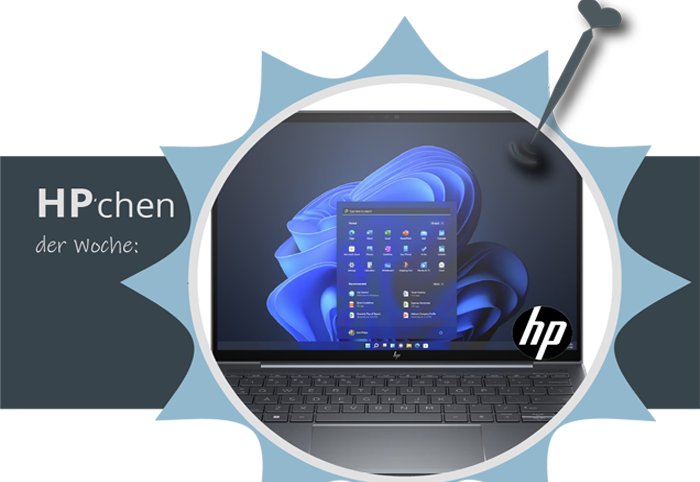 15. Nov 2023
HP special offer of the week - elegant & robust

This special offer only applies to Germany!

EXCLUSIVELY FOR YOU:
HP Dragonfly G4
Laptop PC
Operating system: Windows 11 Pro
Processor: Intel® Core™ i7 1355U (13th generation)
Working memory: 16 GB RAM
Hard disk: 512 GB SSD
Screen: 34.3 cm (13.5 inch), WUXGA+ (1920 x 1280)
Graphics card: Intel® Iris® Xe graphics card

List price: € 1,442.00
Our offer: 1.289,00 € plus VAT.

Certified resilience: work safely from anywhere.
This sleek, lightweight and rugged laptop PC is designed to work safely from anywhere. The Elite Dragonfly has undergone extensive MIL-STD 810H testing to ensure its durability and protect your work. The latest Intel® Core™ processor and DDR5 memory guarantee fast and reliable operation. Don't worry about your battery - thanks to HP Fast Charge, it lasts a whole working day. And even if it doesn't, it can be charged up to 50% in just 30 minutes.
Get it now!!!

UNIVERSALLY EQUIPPED!
This is just one of the current hardware offers selected from the display category. Get more details and offers on notebooks, workstations, displays and accessories - feel free to contact us at hardware@simpatec.com.
Promotions are valid until 30.11.2023!!!

As an official HP business partner, we are very pleased to be able to pass on exclusive hardware benefits directly to you! Benefit from lucrative offers and service packages from one of the most renowned hardware providers, worldwide. HP Inc. develops technology with the goal of improving everyone's life - through a powerful portfolio of printers, MFPs, desktop models, notebooks or even complete office equipment - anything is possible.
Our technical experts will be happy to counsel you with the configuration of hardware equipment which is completely tailored to your individual requirements. Benefit from the advantages of a modern, fast and competitive hardware configuration and secure faster calculation times! Modernize your hardware equipment and create the basis for a high-performance, team-compatible data management system to identify and evaluate potential sources of error in the process, tool or component even faster and in greater detail, and to transform them into a cost- and quality-optimized design - make intelligent manufacturing a reality.

Your project is our project.
Break your limits.
Back to overview