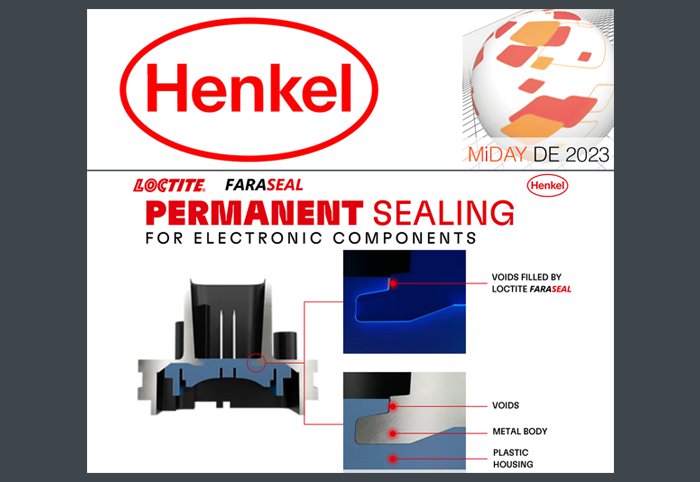 21. Jun 2023
LOCTITE-FARASEAL technology?! Learn all about it at MiDay 2023!

In the exhibitor area at our MiDay Germany on 19.09.2023, renowned companies will present their products and current trends at high-class level. Ask your questions personally to company experts:
Meet and see - Henkel Loctite-KID GmbH.
Henkel is the world's leading supplier of impregnation resins & services. With LOCTITE FARASEAL technology, Henkel offers innovative solutions to seal demanding electronic components.

This new technology enables leaks caused by gaps between metal and plastic to be filled and thus permanently sealed. Henkel's expertise enables you to meet the requirements of today and the challenges of tomorrow. Best is to see for yourself!

Meet user professionals and find out about potentials and perspectives of future-oriented manufacturing processes in the field of injection molding technology. Register now & get up to date!
Take part in a straight-forward, open, no-twirls event marked by direct communication, highly interesting technical issues in close proximity to customers, to the market - all compact in one day. The conference language is German.

We are at the pulse of time for you! Always.
We look forward to this special encounter with you.
Break your limits. Challenge us.

Back to overview