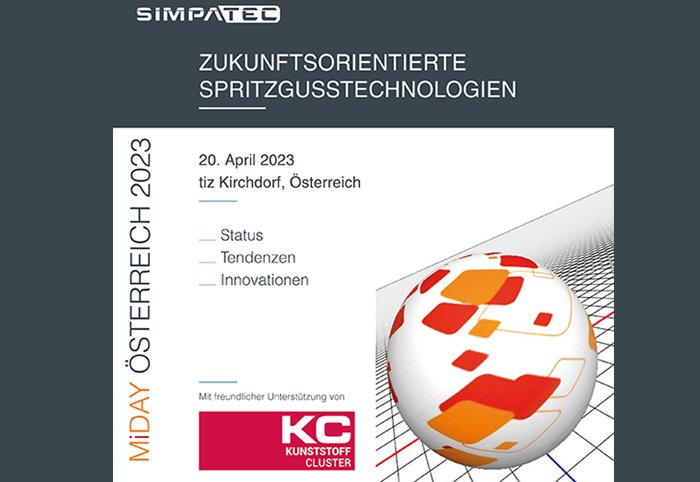 22. Feb 2023
MiDay Austria on April 20, 2023!!

Let's go 😉! Proven concept to be seen again in Austria!
After last year's success, we cordially invite all persons interested in "Innovative Injection Molding Technologies" to our MiDay Austria 2023 on April 20, 2023 at tiz Kirchdorf. We are already looking forward to getting to the nitty gritty of things mutually with you as well as talking shop in person about the latest development trends in future-oriented injection molding technologies and to intensively discuss the subject content on offer. Register now!

Let's go! Meet experts close up!
The event will focus on the potential and prospects of future-oriented manufacturing processes. A special focus of MiDay Austria 2023 is set on subjects related to innovative tool and die making. We rely on a proven concept - the right balance of opportunities for personal contact, communication between interested parties, exhibitors and speakers and the information content of a technically profound and versatile presentation program.

It' going to be informative
The aim of the event is to guarantee customers, business partners and, of course, all interested participants a profound, guaranteeing an effective basis for active knowledge transfer of important innovations and development trends of innovative future technologies in the injection molding environment. MiDay Austria provides many opportunities for direct and immediate answers to your questions as well as practice-proven solutions for the plastics processing industry. Renowned experts will vividly present a variety of technical tips & tricks, innovative solutions as well as current trends and development tendencies in mold and tool making. In the exclusive exhibitor area, well-known companies from the industry will present their latest products, innovative technologies and current trends. A huge thank you already goes to our exhibitors for the media support as well as the professional competent support on site!!! Our special thanks go to 'Kunststoffcluster Österreich', being a plastics cross-industry network in Austria, for their special assistance as media partner.

Learn about the latest international discoveries, ideas and current expertise – all from first hand - and meet application professionals in person!

Stay up to date with us! Register now!

Back to overview