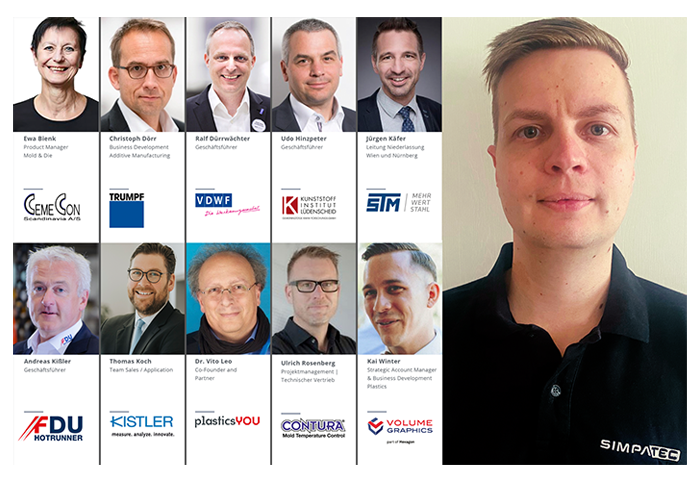 18. May 2022
MiDay Austria - the personal side 😊!!

Welcome 😉!
What would an event be without the people who create it 😉?! - thanks to all who contributed prior in front of and behind the 'scenes' to the success of the event 😊!!! A special thank you also goes to our speakers - we are extremely pleased to welcome important, renowned and recognized industry experts as speakers on site at our MiDay's Austria on June 2, 2022. They play an important part updating people interested in "Innovative Injection Molding Technologies" – and to actively support one of our most important company goals, the realization of a continuous and profound knowledge transfer.

Experts up close! Not to be missed!
The focus of the Agenda is set on the potential and prospects of future-oriented manufacturing processes. Learn more about the latest development trends in future-oriented injection molding technologies and to intensively discuss the technical content presented.

Our Marc Kurz will open the event with his presentation introducing the topic "Welcome - Perspectives and Outlook 4.0", __ Cristoph Dörr, Trumpf Maschinen Austria GmbH & Co. KG, will report on new possibilities for the tool and mold making industry through the process-safe production of the standard tool steel H11/H13 (1.2343/ 44) in metal 3D printing. __ Kai Winter, Volume Graphics, will focus on "A correct assessment of warpage in plastic components - for consistency in the process chain from simulation to production" in his presentation. According to the motto "Energy as much as necessary!", __ Thomas Koch, Kistler Instrumente GmbH, will present new aspects in determining the most energy-efficient machine setting parameters with the aid of cavity pressure curves while maintaining the required quality. The contribution by __ Udo Hinzpeter, gemeinnützige KIMW Forschungs-GmbH, will use the example of the development of an innovative mold temperature control system to show how good ideas for SMEs can be realized and brought to market through research cooperation. The focus of the presentation by __ Andreas Kißler, FDU Hotrunner GmbH, will be on FDU wide slot technology, an innovative technology that is completely different from other hot runner systems and offers injection molders important advantages such as higher component performance and better component quality. __ Ulrich Rosenberg, CONTURA MTC GmbH, will discuss the importance, methods and advantages of conformal cooling temperature control for mold making in plastic injection molding. In the technical paper by __ Jürgen Käfer, STM Stahl Vertriebs GmbH & Co. KG, you will learn more about efficient injection molding with high thermal conductivity steels from the FASTCOOL® family. Last but not least - ___ Ewa Bienk, CemeCon Scandinavia A/S, will present the coating technology PVD Magnetron Sputtering and show practical application examples for minimizing maintenance and increasing efficiency.

We have included two special treats in the agenda especially for our participants - the special presentation "Smart ideas of the VDWF for training and further education in tool and die making" by Ralf Dürrwächter, Managing Director of the VDWF, and the exclusive contribution "Thermoplastic Composites welding and overmolding - Fundamental Healing aspects" by Dr. Hans E. Miltner and Dr. Vito Leo, plasticsYOU. You definitely have reason to be curious. It will be informative.

Surely you have wondered who the new face in the SimpaTec polo shirt is?! We are extremely pleased to welcome __ Jürgen Bauernhuber as a new member of the team at our Austrian subsidiary in Schlierbach. Since the beginning of this year Mr. Bauernhuber supports SimpaTec's engineering team. Maybe you already talked to him on our customer hotline and could master one or the other project with his assistance.

Jürgen Bauernhuber is married and has 2 children. He steered his professional career making a detour way towards the plastics industry. After gaining experience in the culinary field - first as a chef, later as a kitchen manager, he began training as a plastics technician in 2013 and gained practical experience in the field of patterning/tool commissioning. Simulation became more important to him professionally from 2020 onwards. Thus, he was already able to gain relevant professional experience as a simulation technician and in the field of computer tomography. We warmly welcome Jürgen Bauernhuber as a new project engineer in our team and are already very much looking forward to more in-depth activities in Austria.

But most of all we look forward to mutually welcome you, our participants, speakers, exhibitors and partners together on site on 02 June 2022 at our MiDay Austria, personally with him and our SimpaTec team - Florian Aichberger, Antje Bürdek and Marc Kurz.

Talk shop and exchange yourself with technical experts. Learn more about the latest technologies.
Register now! Break your limits.

Back to overview