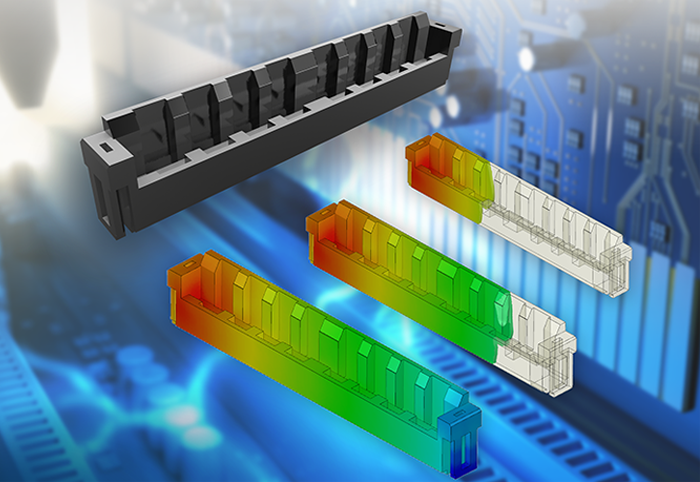 14. Jul 2023
Moldex3D 2023 – Literally 'REAL'

(FAKUMA 2023, hall A5 / booth A5 - 5003)

Seamless transition from simulation to reality – what you see is what you get! Reliability, efficiency, augmentation and liberation (REAL) are the key attributes designers, engineers, toolmakers etc. are thriving for when it comes to plastic injection molding in a continuously growing, automated, demanding fast-paced industry. SimpaTec, one of the leading engineering and software companies in the holistic development and optimization of processes, components and tools, is extremely pleased to announce the latest release of Moldex3D 2023, which embodies precisely this. More comprehensive in-depth and detailed simulation options have been developed in the current release. Users can expect, amongst others, enormously time saving enhancements, more accurate analysis features, faster calculation times, liberating automated workflows, team-compatible data management tools as well as high-end process prediction capabilities and functionalities – all of which seamlessly turn simulation into reality and - literally representing 'REAL'.

Improved software capabilities and enhanced analysis accuracy
It is a major endeavor to continuously improve the simulation capabilities and performance of Moldex3D. This goal has successfully been established in Moldex3D 2023. Material property data plays a significant role in obtaining accurate injection molding simulation results. Therefore, the Moldex3D Forming Technology R&D Center has conducted real injection experiments using nearly 400 different materials to optimize parameters in the material library, enhance reliability, as well as making the results of molding analysis even closer to reality.
But impressive newly conducted achievements in terms of molding analysis don't end here. In this current release users can look forward to astonishing upgrades for venting analysis including compressibility and air temperature calculation. With just a few clicks one can accurately simulate the temperature and pressure changes of air in the mold cavity during the filling process allowing users to plan and compare various venting designs, avoiding defects such as short shots and burn marks.
More technical highlights can also be reported in terms of cooling channel simulations. Users surely will be excited to be able to directly set parameters to automatically build baffle and cooling channel meshes, supporting the establishment and simulation of manifold, which can add cooling tubes outside the mold to consider the actual influence of the mold temperature controller in simulation and thus accelerating the efficiency and calculation accuracy of the overall molding analysis.

Faster and more flexible computing, more powerful virtual and real integration
Nowadays multi-core computers using parallel computing have become increasingly popular in order to reduce the calculation time of molding analysis' which in turn is more than beneficial for enterprises. Moldex3D 2023 supports parallel computing on multi-core processors, multiple processors and clusters, which can not only increase the calculation speed by up to 80% but also improve the calculation efficiency of wire sweep analysis in IC packaging by nearly 20%, greatly enhancing simulation efficiency.
Newly implemented ideas, procedures and handling options make the profound cloud platform an even more powerful tool for enterprises. Moldex3D Cloud-Connect helps users to deploy the latest version of Moldex3D on AWS, Azure and Google within a minimum of time and can adjust the calculation scale according to demand, making work a lot easier. Additionally, Cloud-Connect also supports automatic on/off functions, allowing business companies to save up to 72% of costs during the period of timed plans, effectively controlling costs and achieving true on-demand use.
Moldex3D 2023 also strives to meet customers' demands for virtual and real integration. Moldex3D iSLM allows enterprises to establish a large database, effectively manage work assignments and project schedules as well as create their own quality indicators to quickly determine the product quality. From now on users can search models by uploading CAD files, saving time and effort to search and compare files throughout the database and thus making knowledge management goals more achievable.

The latest version of Moldex3D also provides novelties in terms of injection molding machines, hence it is now possible to also integrate machines from FANUC and Sumitomo. Users can import the molding conditions as well as response curves from the injection molding machine into Moldex3D, allowing the molding software to perform molding analysis using more accurate machine data and export the optimized injection parameters back to the machine for direct use in trial molding, achieving the goal of connecting simulation software with real-world information.

Solving complex manufacturing challenges in a 'blink of an eye'
To be able to solve numerous complex manufacturing processes, Moldex3D 2023 offers a range of new features. In terms of optics, the latest MCM dual-shot optical simulation function accurately calculates residual stresses and thermal residual stresses for each shot and thus providing more detailed optical molding parameters for design optimization. It also provides two viewing output options, isochromatics and isoclinics, allowing users to quickly and intuitively identify simulation results.

For the increasing number of continuous fiber-reinforced layup applications, Moldex3D 2023 supports file formats from LS-DYNA or Abaqus, assisting to calculate composite material layups and providing more accurate simulation results. Complex processes can be solved in a 'blink of an eye'.
Assisting customers in converting simulation data into product insights more quickly and easily has always been a demanding mission of Moldex3D. The latest release allows users to customize simulation projects and generate reports, comparing all simulation results using the same perspective and conditions, clearly identifying the most suitable molding conditions. Users can also directly adjust the timeline to understand the meltfront and changes in temperature and pressure of the molten resin in the mold cavity at any time point.

Liberating workflowl
For a product to undergo the entire holistic production cycle – from design to manufacturing – it often requires multiple trial and error phases. How can these steps be automated? The integrated API function in Moldex3D 2023 enables exactly this - automated and customized workflows with just one click! Fully automated simulation sequences based on own experience support and increase the user's productivity during the entire workflow. The predefined parameters allow an adaptable and company-specific definition of the simulation process to standardize the results and evaluations. Furthermore, API offers companies the possibility to integrate product design and structural analysis programs to essentially accelerate the development process. Less effort - more productivity!

SimpaTec, operating since 2004, offers custom-made innovative methods and solution concepts in the development and optimization of injection molding components in every stage of the process. This year's MiDay Germany 2023, taking place in Böblingen on September 19,2023 as well as FAKUMA 2023 (hall A5 / stand A5-5003) are ideal opportunities to get the latest updates and to convince oneself of how SimpaTec can be your first contact and your leading consultant to cluster efficient and highly productive software and service packages for the plastics processing industry.

Back to overview