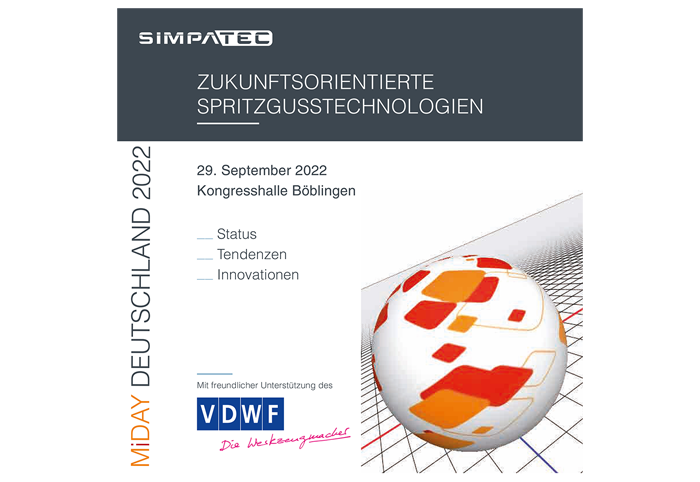 08. Dec 2021
Moving forward together ... MiDay 2022!
2022 – presence in focus!!
Even though the times are once again in a Sl(h)owDown modus ... we won't let it dominate us!! We are looking ahead and are planning 2022 – with PRESENCE! Take an active part and let's tackle new challenges together!!! Let's look ahead with confidence - support us to make our MiDay Germany in CC Böblingen on 29.09.2022 especially actively, successful 😉!!!

Interpret results correctly! Follow the latest trends!
The focus of our successful MiDay event series is on the potential and prospects of future-oriented manufacturing processes. A special focus of MiDay Germany in September 2022 will be on topics related to innovative tool and die making. We are relying on our proven concept - the right balance of opportunities for personal contact, communication between interested parties, exhibitors and speakers, and the information content of a technically sound and multifaceted presentation program.

Experts will present a wide range of technical tips and tricks, innovative solutions and the latest trends and developments in future-oriented technologies for mold making and tooling in a clear and informative way. Take the opportunity to discuss how, for example, tools can be manufactured even faster and more efficiently, production times for series tools can be shortened while at the same time increasing component quality, what influence state-of-the-art simulation tools can have in the holistic, virtual product development cycle with us and renowned speakers of the industry...

Like in the past the offer of an accompanying trade exhibition is also planned. More than 40 exhibition spaces will be available to renowned companies in the industry to present the latest products and topic-related development trends. Attendees will have the opportunity to directly address open questions and discuss them in detail with experts of the trade. We are already extremely pleased to have VDWF on board as a competent and knowledgeable event partner. It will be a well-rounded and coherent event.

For those of you who would like to participate as one of the top exhibitors at our MiDay Germany, here are more details about the exhibition and registration options ...

Plan your participation now, register directly and don't miss your chance to get comprehensive and detailed information about the latest trends in future-oriented injection molding technologies.

By the way, for those who don't want to wait that long or have a regional preference for Austria, there is another interesting date our MiDay Austria will take place on June 2, 2022 at the Technology and Innovation Center (tiz) Kirchdorf.

We are at the pulse of time. Always.
We look forward to this special event with you.
Break your limits. Challenge us.

Back to overview