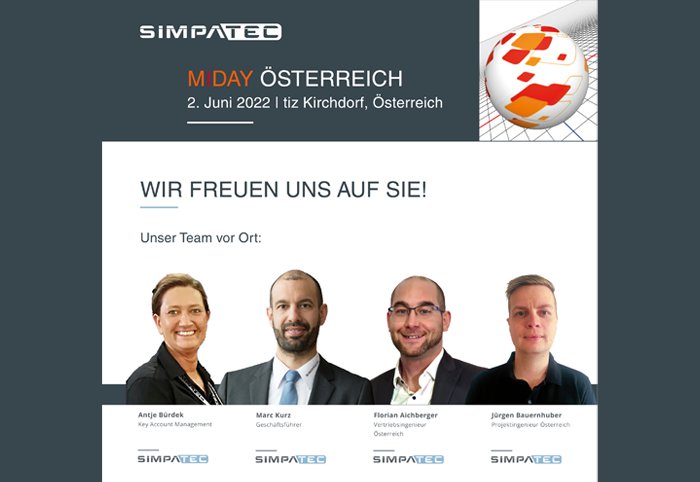 24. May 2022
Register today - MiDay Austria!
You should not miss it 😉!
Next week Thursday, on June 2, 2022, the time has come - all persons interested in"Innovative Injection Molding Technologies", and who like to get into the nitty gritty of things and who want to be up-to-date in their field of expertise, are cordially invited to Austria for this year's MiDay Austria. Being one step ahead of the time - knowing today what will be required tomorrow. Register now - today is the last opportunity!!!

Experts up close! Not to be missed!
The focus of the event is set on the potential and prospects of future-oriented manufacturing processes. Learn more about the latest development trends in future-oriented injection molding technologies and to intensively discuss the technical content presented.

We are relying on our proven MiDay concept - the right balance of opportunities for personal contact, communication between interested parties, exhibitors and speakers and the information content of a technically profound and multifaceted presentation sessions. Experts will present a wide range of technical tips and tricks, innovative solutions and the latest trends and developments in future-oriented technologies for tool and mold making in a clear and informative way.

It is definitely going to be informative!
The aim of the event is to guarantee customers, business partners and, of course, all interested participants a solid, effective basis for the active transfer of knowledge of important innovations and development trends of innovative future technologies in the injection molding environment in the usual high quality. MiDay Austria offers you direct answers to your questions and practice-proven solutions in the plastics processing industry - by means of excellent technical papers, constructive discussion rounds as well as an informative exhibitor area, here well-known companies of the industry present themselves with products and current trends at world level. Take the opportunity to learn about the latest technical knowledge at first hand from renowned experts in the industry.

Our thanks go to all speakers and exhibitors as well as to those who contributed so actively to the success of MiDay Austria 2022. Special thanks go to the VDWF and Kunststoffcluster Österreich for their special support as media partners.

Our SimpaTec team on site - Florian Aichberger, Jürgen Bauernhuber, Antje Bürdek and Marc Kurz - is already extremely looking forward to welcome you in person on June 2, 2022, at our MiDay Austria, at tiz Kirchdorf.

This is your last chance to - talk shop and join the discussion – grab it!
Register now! Break your limits.

Back to overview