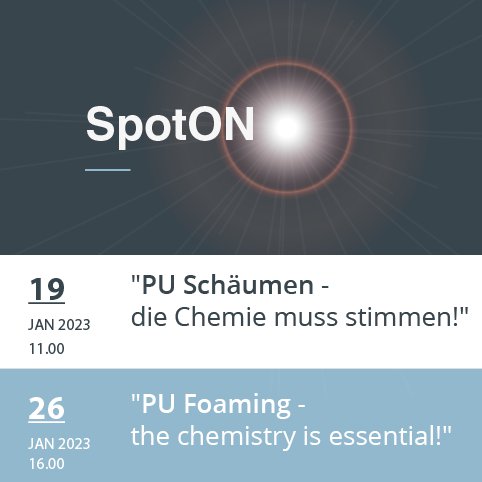 07. Dec 2022
The chemistry ist essential! SpotON!
Only the perfect interaction – promises success!!!
And not only during the exciting pre-Xmas season! Whether it's baking cookies, preparing a holiday meal or choosing the right Xmas guests - the right mix of components and a coordinated approach is vital for its success. The chemistry is essential! This also applies to the production of components manufactured by means of chemical foaming! Get up to date with the latest technology in our January SpotON "PU foaming - the chemistry must be right!" on Thursday, January 26, 2022, 4 p.m."! Register now!!!

Informative, free of charge - consolidated know-how digital!
Our successful digital event series "SpotON" is entering into its fourth year. In 2023, we will continue to illuminate interesting industrial topics, new development trends and exciting technologies with an extra spot for the right perspective. Take a look at one of our free SpotOn's, alternatively we also offer other digital event formats, whether it being webinars, training courses or daily seminars ...

The new SpotON year starts with taking a glance at a particulat topic - "Chemical foaming". Learn more about the latest development trends in process engineering and simulation possibilities regarding foaming.

We eagerly look forward to our guest speaker __ Philipp Sterzenbach, Sales Manager Metering Machines at Hennecke GmbH. In his presentation "High pressure reaction molding machines for a wide range of applications" he will provide an exciting insight into the current state-of-the-art technical possibilities ". Mr. Sterzenbach believes that "Polyurethane products offer as many properties as conditional states, and thus almost unlimited possibilities for the processor. The product and the customer must be understood to achieve an innovative and ecological solution." We are already keenly awaiting his presentation. __ Marc Kurz, Managing Director of SimpaTec, will demonstrate, amongst others, how Moldex3D provides foaming kinetics for different by-products in the chemical foaming process, provides validation variants and how measurements are evaluated. Additionally, it is possible to immediately include influencing parameters of the process simulation, such as venting, gravity or even porosities for FEA. Don't miss this! SpotON "PU Foaming" ... click here to register ...

The digital event will be moderated by __ Florian Aichberger, Sales Engineer, SimpaTec Austria. During the whole event it is possible to ask questions during the chat, the most important chat questions will be answered within discussion round at the end of the SpotOn.

Get up to date regarding the topic "Chemical foaming". Register now!!
Of course, there is also the possibility for Germanspeaking interested parties to inform themselves, register now for
__ the free SpotON "PU Schäumen - die Chemie muss stimmen", on Thursday Jnauary 19, 2022 at 11:00 a.m.

Stay at the pulse of time!
Break your limits.

Back to overview