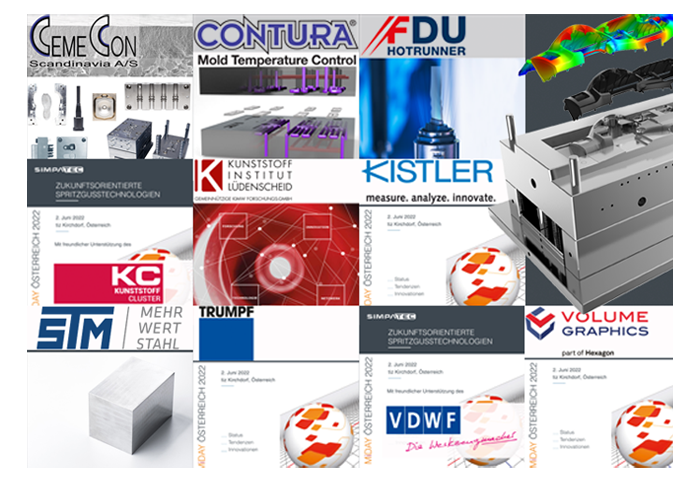 11. May 2022
Let's go – MiDay Austria 😉!!
The time is right and it has been far too long 😉!
Not long now, on June 2, 2022 we welcome all people interested in the topic "Innovative Injection Molding Technologies", and who like to get into the nitty gritty of things and who want to be up-to-date in their field of expertise, to our MiDay Austria. We are looking forward to finally being able to talk to you in person about the latest development trends in future-oriented injection molding technologies and to intensively discuss the technical content presented.

Let's go. It is definatley going to be informative!
The focus of our successful MiDay event series is set on the potential and prospects of future-oriented manufacturing processes. A special focus of MiDay Austria 2022 will be set on topics related to innovative tool and die making. We are relying on our proven concept - the right balance of opportunities for personal contact, communication between interested parties, exhibitors and speakers and the information content of a technically profound and multifaceted presentation sessions.

In the exclusive exhibitor area, well-known companies from the industry will present their latest products, innovative technologies and current trends. A big thank you goes to our exhibitors for their media support in advance as well as the professional support on site!!!
Get to know application professionals personally at MiDay Austria! The company __Cemecon Scandinavia produces super hard (1800-3700 HV), wear resistant, rust resistant and self-lubricating coatings for use in highly stressed tools, injection molds and components. __ Contura MTC supplies holistic temperature control concepts for injection molds. The focus is on finding a concept for suitable conformal temperature control of the mold insert. __ FDU Hotrunner GmbH is responsible for sales and further development of FDU (Flat Die Unit) technology. This is an innovative hot runner nozzle system for injection molds that projects the flow channel onto a flat nozzle. The __ Kistler Group is the world market leader in dynamic measurement technology for the acquisition of pressure, force, torque and acceleration. As an experienced development partner with unique sensor technology, Kistler enables products and processes to be optimized and sustainable competitive advantages to be created. The __ gemeinnützige KIMW Forschungs-GmbH is a reliable partner for the practice-oriented implementation of research and development tasks within the plastics industry. __ STM Stahl offers a wide range of steel grades such as tool, powder metallurgical and high-performance steels. __ Trumpf is a technology leader in machine tools and industrial lasers as well as a pioneer in additive manufacturing. The high-tech company offers the complete portfolio from a single source - laser beam source, machines, powder and services. Our special thanks go to the __ VDWF, whose main concern is to strengthen the German-speaking tool and die industry, and the __ Kunststoffcluster Österreich, a cross-industry network of Austria as a plastics location, for their special support as media partners.

Learn about the latest international insights, ideas and current expertise from 1st hand!
Stay up-to-date with us! Register now! Break your limits.


Back to overview