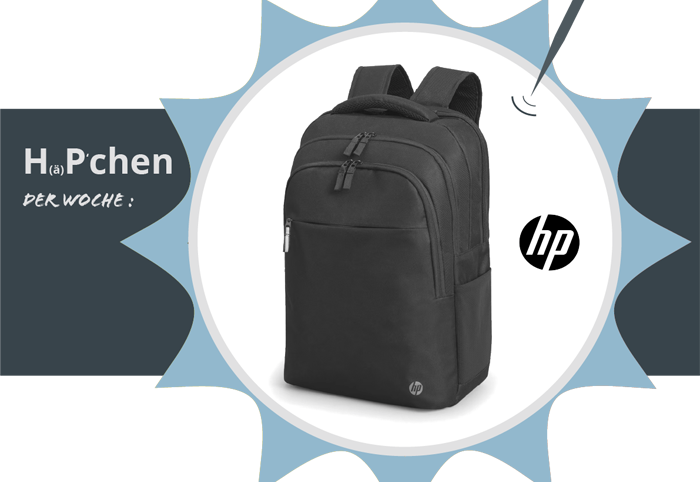 14. Jun 2023
Our HP- Appetizer of the week – sustainable PROTECTION!!!

The special offers only apply to Germany!

Sustainable PROTECTION!!!
The HP Renew Business 17.3" Laptop Backpack protects your laptop, keeps your accessories organized, and is made of eco-friendly, durable, easy-to-clean, and comfortable materials.

HP Renew Business Laptop Backpack (17.3")
Weight: 0.74 kg
Dimensions (W x D x H): 32 x 14 x 47 cm
Warranty: One year manufacturer warranty.
Special Features
_ Hand wash and air dry
_ Water repellent
_ Cable feed-through
_ 3 compartments
_ Product specific material: 100% recycled marine plastic, 600D polyester (210D polyester lining)
Special price € 33,00 net


UNIVERSALLY EQUIPPED!
This is just one of the current hardware offers selected from the display category. Get more details and offers on notebooks, workstations, displays and accessories - feel free to contact us at hardware@simpatec.com.
Promotions are valid until 31.07.2023!!!

As an official HP business partner, we are very pleased to be able to pass on exclusive hardware benefits directly to you! Benefit from lucrative offers and service packages from one of the most renowned hardware providers, worldwide. HP Inc. develops technology with the goal of improving everyone's life - through a powerful portfolio of printers, MFPs, desktop models, notebooks or even complete office equipment - anything is possible.
Our technical experts will be happy to counsel you with the configuration of hardware equipment which is completely tailored to your individual requirements. Benefit from the advantages of a modern, fast and competitive hardware configuration and secure faster calculation times! Modernize your hardware equipment and create the basis for a high-performance, team-compatible data management system to identify and evaluate potential sources of error in the process, tool or component even faster and in greater detail, and to transform them into a cost- and quality-optimized design - make intelligent manufacturing a reality.

Your project is our project.
Break your limits.

Back to overview