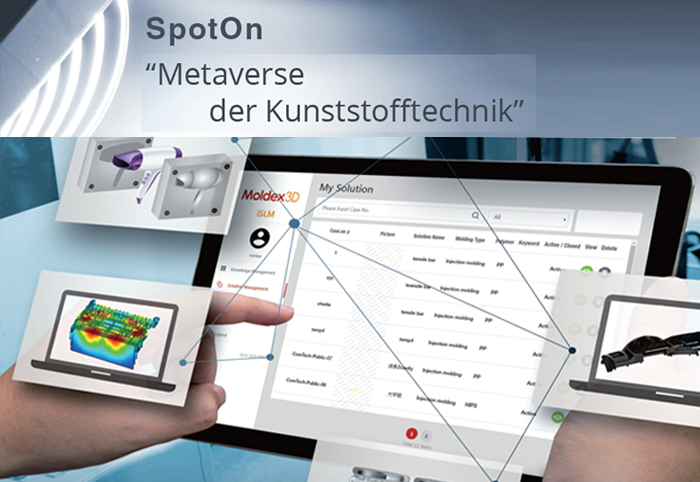 13. Apr 2022
SpotOn "Metaverse of Plastics Engineering"

Modern data management?!!! Absolutely, YES!
Short product life cycles and high component requirements are demanding efficient product development methods. Efficient process control strategies, innovative toolmaking technologies and the use of state-of-the-art simulation tools at an early stage of product and tool development are highly important points in this concern. The elementary basis is modern data management. Get up to date with the latest technology in our SpotOn "Metaverse of Plastics Engineering", Thursday, 28.04.2022, 4.00 p.m. ...

We would like to use the opportunity within this SpotOn to inform you about the most important facts and main points of the digital twin technology and illuminate new aspects of digitizing the digitalization.

We are looking forward to our guest speakers __ Peter Dunzendorfer, Kapsch Business Com, who gives us an exciting insight into the status of digitization in the industrial sector, and __ Gerd Schwaderer, Volume Graphics, who reports on the importance and possibilities of digital knowledge transfer.
Furthermore, our __ Marc Kurz, Managing Director of SimpaTec, will present the importance of the topic for simulation projects with a special focus on the digitization of the digitization. The event will be moderated by our __ Florian Aichberger, Sales Engineer, SimpaTec Austria. You are welcome to ask questions in the chat during the entire event. We are happy to answer the most important chat questions in the discussion at the end of the SpotOn.

Like in the past we are also offer this SpotOn for our Germanspeaking audience. The events start at 11:00 a.m. on Thursday, April 21, 2022. More information and registration options can be found here.

Broaden your horizon!
Register now for our SpotOn "Metaverse of Plastics Engineering"!!!
Break your limits.



Back to overview